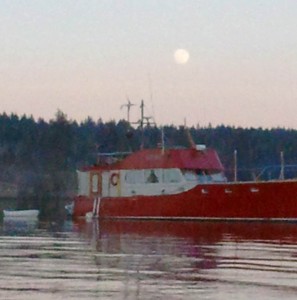 1947 45 ft Trumpy Yacht built in New Jersey.  It was redesigned in 1957 as a sport fishing boat by Sparksman and Stephens in New York. It has 2 aluminum 4/71 gmc engines mounted on their sides. The cranks, dip sticks, starters etc are facing inboard and the cylinder heads facing outboard hence opposing engines acting as a gyro to stabilize the boat in heavy seas. Opposing 23inch props. Hull speed 16 knots. 14 knots at 1350 rpm both engines. 8.5 knots at 1350 rpm 1 engine. $1 a nautical mile at 7 knots.
Electrical:  2500 watt inverter with 130 amp charger. 1050 amp hr. 2 volt cell battery bank. 480 watts solar power, 400 watt ampair marine wind generator,  110 volt fridge. 2, 6 gallon 110 volt hot water tanks 1 with heat exchanger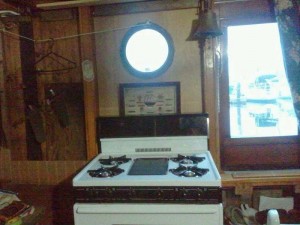 Galley: 2 deep sinks with separate faucets, airtight marine wood stove with cook top, 5 burner propane stove with oven and broiler. Centre cook top changes to griddle, 110 volt refrigerator.
Electronics: lowrance gps plotter, lowrance fish finder, Raytheon  radar, 3 vhf radios, lowrance sounder, solar boost 2000 solar panel control, electric windless, hand windless, 45,000 btu espar furnace lots more
Perfect live aboard cruiser, please phone 250 739 3883 for more information, open to offers.