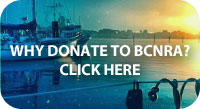 If you're passionate about living on the water, or believe that those who do should have the freedom to do so, we could use your financial — as well as philosophical — support. There are people in our communities and government who would like to see this way of life disappear on our coastline. Help us inspire those people with a different point of view as well as build and improve our communities.
How do your donations support BCNRA and its members? Your donations help support:
Research into issues and initiatives that have a direct impact on liveaboard boaters and floathome residents.
Public education regarding specific issues.
Expert reports on specific topics, e.g., legal implications, environmental impacts, etc.
Legal challenges to laws that have an unfair, adverse impact on liveaboards and floathomes.
Annual expenses such as the BCNRA website, Annual General Meeting, and other organizational initiatives.
Please note that as an advocacy group, we are not a registered charity and cannot issue tax receipts. Thank you for your contribution to the liveaboard community.
To donate, click the Donate button below which will take you to a secure site to process your donation. You do not need to be a PayPal member, simply enter the amount and look for "Don't have a PayPal account? " (shown below left)  and click Continue to enter your credit card information.