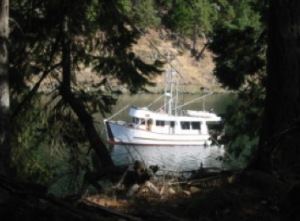 Rick Schnurr & Judy Brooks
On our four month summer cruise in 2011, we found it difficult to find good yogurt in small out of the way provisioning stops. This was a problem as we have yogurt for breakfast (with blueberries and homemade granola) almost every morning. It makes a filling easy breakfast when you have to get going to make that tide through the narrows five hours later!
I started making my own yogurt shortly after returning to the Wharf St. docks in Victoria in the fall. When on shore power, it's easy to heat the yogurt during its "cooking" stage (5 below) by using an electric heating pad and a towel or blanket. However, I did not want to waste inverter power for 7 hours while off the grid. It occurred to me that the engine room stays very warm for hours after just a few hours run. So, my plan became to start the yogurt making process as soon as the hook was set and we would have a fresh batch of yogurt by lights out.
I am happy to report that our first batch was a success right here in Port Browning last night.
Engine Room French Vanilla Yogurt
Milk (amount is determined by your yogurt maker capacity. I use 1 ¼ liters of whole milk in a 2 liter glass jar with tight sealing lid).
1/4 cup powdered milk (this is a thickener and is the key to thicker yogurt)
1/4 cup light brown sugar
3 tbsp of vanilla (use real vanilla, no imitation stuff)
¼ cup of store bought yogurt (use plain if you can). Once you start this process you can use your own culture to start the next batch.
Thermometer
Instructions
1. Heat milk to 185° F. I use a double boiler (to save your fresh water for drinking, use salt water in the bottom of the double boiler).
2. Remove milk from heat and let cool until the 120° F range. This takes between 10 and 15 minutes. (Again, I use cold salt water in the bottom of the double boiler (no heat) to cool down the milk.)
Note: As the milk cools, a skin will form. I just wind it around the thermometer and discard. Don't panic if you see the skin–it can be removed with no ill effects on the final product. This will not happen if you keep stirring to augment the cooling process.
3. Add the powdered milk, vanilla, and sugar. Stir.
4. Monitor the temperature of the mixture and add the yogurt culture when the thermometer reads 112° F.
5. Now set your yogurt in a warm environment for 7 hours. I place mine in the engine room wrapped in a towel or fleece pillow case.
6. Enjoy!