The BC Nautical Residents Association was founded in 2010 by a group of liveaboard boaters to encourage responsible living aboard and to find solutions to issues faced by people who live on the water.
An individual may not, on their own, be able to effect change in their community, but a united group of people can. The BCNRA's voice is strengthened through building our membership.
Join today! There are changes happening up and down the BC coast that can seriously alter a person's right to live afloat. Joining the BCNRA adds your voice to the discussion. The BCNRA promotes responsible living aboard and advocates for liveaboards' right to live on their vessels. This right is under threat.
The BCNRA's mission statement is to:
Preserve and support the tradition of living aboard one's vessel;
Promote environmental awareness among liveaboards;
Establish effective communications between liveaboards and non- liveaboards;
Resolve issues of concern to live- aboards;
Serve as a voice for liveaboards regarding activities that affect BC waterways.
The BCNRA provides:
A forum for exchanging information and tips and tools;
Directors who will work with you to find solutions to issues in your area;
A website that is constantly updated with news and views;
A quarterly newsletter, with contributions by members all along the BC coast;
An Annual General Meeting, where you meet other members, elect the Board of Directors, and get an update of what the BCNRA has been involved with over the past year.
2021—2022 Board of Directors

Ken Lund, Nanaimo
Ken has a 60 year old strain of Vancouver Island DNA and has been "mucking around" on boats since childhood. Through work and play he has explored much of our British Columbia coastline from Victoria to Prince Rupert. He became involved with the rights of fellow boaters during a period of time when the Nanaimo Port Authority was attempting to regulate boaters in the Nanaimo Harbour anchorage.  Later he joined the British Columbia Nautical Residents Association and is one of the Directors. Ken operated Viking Adventure Tours for a number of years with the 54 foot wood  vessel, MV Viking 1. Recently he has put the boat up for sale and has downsized to a 36 foot vessel, the SV Full Circle, which makes Nanaimo her home.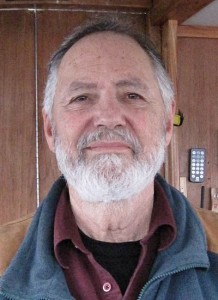 Bill Sassaman, Cowichan Bay
Until our family moved to Victoria in 1983, I'd never considered sailing, let alone living on a sailboat. In my earlier life, I was a mountain climber, skier, and forester – anything earthbound. Victoria was a perfect place to get introduced to boating. After learning to sail, and once I'd convinced my wife, Donna, that cruising offshore wasn't a completely crazy idea, we moved aboard in 1987 to get used to living on a boat and to save money to go cruising for a few years.
After we returned to BC in 1993, we decided that we weren't ready to move back to land again. I guess we're still not ready – we've been liveaboards for 28 years. Currently, our home port is Cowichan Bay and our boat is a customized Spencer 44 sloop.
I helped to found the BCNRA in 2010 because of some experiences we had while living anchored in False Creek, Vancouver on and off from 2000 to 2008. Liveaboards and floathome residents need to band together if our choices for how we live are to be protected. I like to work as part of a team, which is why being on the BCNR Board is a great opportunity for putting my analyzing and communication interests to work.

Cathy Gilbert
bio tba
.
.

Don Bruneski
bio tba
.
.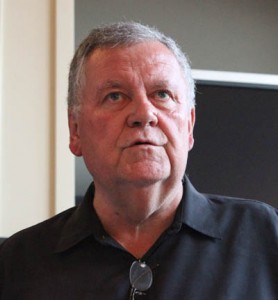 David Brand, Esquimalt
My love of the sea began on the stern of Sylvania as she sailed across the Atlantic in 1958 bringing my family from a farm in central England to Saskatoon. It took five years for us to find Vancouver Island where I grew up as a small boat sailor around Cowichan and Genoa bays, fishing as far away as Active Pass. I joined the navy in 1968 and spent a lot of time in small boats and have had the pleasure of crewing on HMCS Oriole.
In 1981 I left the ocean for Ontario and it wasn't until my health took a turn that I reconsidered my future and returned in 2010. My intention was to find a craft to live on the water. It was a 'lifestyle choice'. She had to be seaworthy and comfortable. Two years later I found her and have lived aboard since. I live in West Bay surrounded by like-minded people.
BCNRA offers a code of ethics and conduct for the lifestyle that balances life choice with society as a whole. We all share this earth. I have chosen to be a director to be involved in the continued existence and success of this way of life.
Assistants to the Board of Directors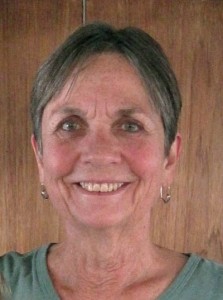 Donna Sassaman, Cowichan Bay
I grew up in coastal New England and served as 'ballast' on a few sailboats before moving to the southeastern part of BC with Bill and our young children in the mid-70s.
Living on a boat was never on my personal radar; I was interested in homesteading – raising kids and growing vegetables. It wasn't until we moved to Victoria in 1983 and Bill was bitten by a big Boat Bug that I even considered owning a boat, let alone cruising offshore. Three years exploring the west coast of Mexico, French Polynesia, and Hawaii was a fabulous adventure, as has been cruising our coast from Victoria to Juneau.
Over the years I've learned that living aboard is similar to homesteading: We leave a small environmental footprint; are self-sufficient to some degree; and have a strong sense of community.
I've been involved with the BCNRA since its inception and have served as Secretary since the first directors' meeting. After a stint as the newsletter editor, I continue to assist the current editor as proofreader.
My hope is that the Association will continue to grow in membership all along the BC coast. The BCNRA has an important role to play in educating the public and liveaboards regarding the rights and responsibilities of nautical residency. Boat life is not for everyone, but it is a valid and viable choice for some, and deserves the same respect and acceptance that we nautical residents afford to land-dwellers!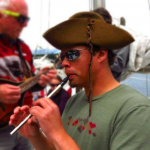 Kris Samuels, Esquimalt

I grew up on the Vancouver Island and have been around boats all my life. I lived aboard a 46' sailboat "Fantasea" in Victoria Harbour for 10 years. Although I now live on land with my wife and young son, I believe it's important that this way of life be available now and for future generations. I think this can be done by growing healthy, responsible, marine communities and endorsing the positives of this alternative lifestyle to land based communities who have the capacity and vision to help create them. My background is in project management and communications coordination.