By Bill Sassaman, BCNR Director
BCNR directors first heard there was a problem in Port Hardy when Globe and Mail reporter, Mark Hume, contacted Director Kris Samuels for his opinion. In his article published on October 22, 2012, Mr. Hume reported:
On September 26, the District of Port Hardy Harbour Authority served a Notice to End Moorage on Mr. [Keith] Dorward and several others who live on vessels in the small port on northern Vancouver Island.
The notice gave them 30 days to move, or "be escorted off the premises by the RCMP."
The development is part of a movement on the West Coast, where liveaboards are slowly being forced out of urban harbours, because of concerns about pollution, unruly dockside behaviour |and unsightly boats.
David Pratt, the harbour manager in Port Hardy, declined to comment, referring all questions to Mayor Bev Parnham. But Ms. Parnham did not return calls.
Councillor Rick Marcotte didn't want to discuss the issue either, but indicated the notice was issued because of concerns at the dock.
"Well, we are trying to clean up our harbour, actually. That's basically it," he said. "It's just that there was a bunch of unemployed people with no income that are basically [living on] derelict barges … down there."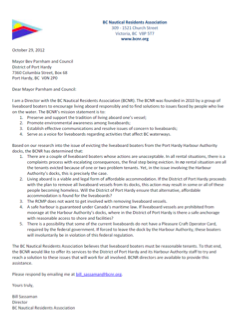 Kris contacted the other directors and we began an investigation into the eviction. We were put in touch with a friend of Keith Dorward, as well as an outreach worker, who both provided insights into the issues at the dock. The directors agreed to contact Mayor Parnham and Councillors with an offer to assist in mediating the issues between the Harbour Authority and the liveaboards. This offer was emailed to them on October 29th. To date, the BCNR has not received a response from the District of Port Hardy Council. Please read the letter, download a pdf version by clicking on the image to the right.
On November 1st Mr. Dorward and eight other liveaboards moved their boats from the District of Port Hardy's docks. Mr. Dorward moved in with his friend on a temporary basis and, at last report, was living at the Salvation Army facility in Port Hardy. We don't know to where the other liveaboards relocated.
Since our initial investigation, the directors have received input from other sources, who indicated that there were serious social issues at the Port Hardy dock that involved some of the liveaboards. As in all conflicts, there are a variety of perspectives. However, what is evident is that Port Hardy is only the latest in a series of efforts by marinas to rid their facilities of 'problem' liveaboards. Rather than dealing with individual issues, some harbour authorities have opted for policies that prohibit living aboard at their docks. BCNR's position is that liveaboards must be responsible for their physical and social environments, and where there are problems, marina staff and liveaboard boaters need to negotiate a resolution to their specific issues.
The directors welcome your feedback on this issue. How would you approach resolving issues involving liveaboards? What has been your experience? What can we do as the BC Nautical Residents Association to prevent this type of occurrence from happening?